EXAMPLES

Below are two examples of of projects BRIDGEKEY has developed.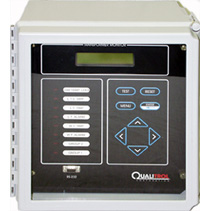 Example #1 - Qualitrol 509 Temperature Monitoring System
The Qualitrol's 509 Transformer Temperature Monitor provides a complete power transformer monitoring function. It combines microprocessor technology, advanced digital signal processing, analog signal conditioning, communications, and power supply designs.

Bridgekey developed the 509 hardware, BIOS software, and the PC based support applications for remote operation, configuration and testing.

The 509 is a highly modular system providing:
Up to 8 input signal modules
10 different types of input modules are available
4 analog output current loops can be configured for two different ranges
10 output control relays can be configured for a variety of cooling and alarm schemes.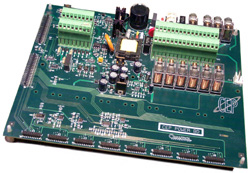 The 509 is connected into a SCADA system using several different communications protocols and signaling systems and is powered by an on-board universal power switching power supply. The hardware is based on Hitachi H8 high integration microprocessor. The Flash stored software is in-system programmable.

The system software consists of a BIOS layer providing a well defined interface between the transformer application code and the hardware. PC based applications provide for remote operation of the 509. Configuration of the system at the factory, based on customer purchased options, is accomplished with a PC based configuration application. System-wide diagnostics can be used to service the 509 in the field.

Consumer Electronics
Bridgekey has extensive experience with the design and manufacture of portable, battery powered, consumer electronic products. Specifically, we have experience with hand-held electronic information devices, such as electronic language translators, organizers, and electronic dictionaries.

These products contain low power embedded processors, masked ROMs, very low power RAMS, custom LCD displays, keyboards, battery systems, and sophisticated software.

The software combines the user interface, data base access, data decompression, and application specific tasks. The software is tightly coupled with the hardware resulting in an optimal product design in terms of cost and performance.

Example #2 - IdeaFisher Handheld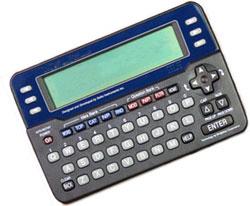 IdeaFisher Systems, Inc. has developed and patented a unique and innovative brainstorming tool designed to help you think creatively. The product is recommended for writers, designers, advertising executives. entrepreneurs, engineers, inventors and educators.

Bridgekey, under a contract from Seiko Instruments, Inc., developed a hand held version of this popular PC program for IdeaFisher. The hardware design utilizes a very high integration Epson processor coupled with LCD expansion companion IC, low power RAM, non-volatile EEROM, and a large masked ROM.

The software for this product, written in C and assembly code, included:
development of user paradigm consistent with the PC program model
development of a simulator
implementation of user interface
data base compression
hardware BIOS.
The product has four modules that can be purchased on a custom Internet web site. A system of encryption, tags and keys is used to lock and unlock individual modules.